Book chapter of "Brand Co-Creation Tourism Research"
30 August 2023
Tweet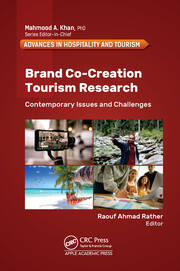 Sihem Dekhili (BETA) and Yousra Hallem (INSEEC) are the authors of chapter 3 of Brand Co-Creation Tourism Research: Contemporary Issues and Challenges, Rather, R.A. (Ed.), 2023 (1st ed.). Apple Academic Press.
Chapter title: "Co-Creation Facets and Their Impact on Tourist Well-Being: An Empirical Study in the French Context"
Abstract:
More than ever before, the tourism sector is changing as a result of the current crisis. Business models should improve to better fulfill customers' expectations. This research examines the extent to which customers could be more involved in co-creation processes to enable providers design more adapted services. More precisely, it investigates the relationship between co-creation and tourist well-being. The results of two qualitative studies help to define tourist co-creation behavior, investigating tourist participation behavior and tourist citizenship behavior. Moreover, different dimensions of customer well-being (satisfaction, happiness, pleasure, assurance, and pride) are identified—before, during, and after the co-creation process.